LG Video Converter Freeware is the best software for converts almost all PC video files (support most popular video formats including AVI, IVF, DIV, DIVX, MPG, MPEG, MPE, MP4, M4V, WMV, ASF, MOV, QT, TS, MTS, M2T, M2TS, MOD, TOD, 3GP2, 3GPP, 3GP, 3G2, DVR-MS, VRO, FLV, F4V, AMV, RM, RMM, RV, RMVB, and MKV and more) to Video for LG Mobile Phone.
It is very easy to use without any special setting, only a few clicks complete the task of convert video;

It is made for the beginner as well as having advanced functions for the professional user;

Provide greater than 300% converting speed by multithreading, so fast beyond your imagination;

Both multithreading and batch conversion supported;

Easy to use – Just two clicks, everyone can become the master of LG Video Converter;

Support Model – Spirit 4G MS870, LGE960, Optimus REGARD LW770, Mach LS860, Optimus G LS970, Optimus L9 P769, Freedom UN272, Optimus G E970, Venice LG730, Escape P870, Spectrum 2 VS930, Splendor US730, Intuition VS950, Motion 4G MS770, Optimus Zip LGL75C, Optimus Plus AS695, Optimus Elite VM696, Elite LS696, Viper LS840, Xpression C395, A340, Rumor Reflex LG272, Rumor Reflex LN272, Optimus M+ MS695, Lucid VS840, Nitro P930, Spectrum VS920, Marquee LG855, Connect 4G MS840, Extravert VN271, Optimus Series and myTouch Series.
LG Video Converter Freeware System Requirements
OS: Windows 98/Me/2000/2003/XP/Vista, Windows 7 or Windows 8.
CPU: >750MHz Intel or AMD CPU
LG Video Converter Freeware Screenshot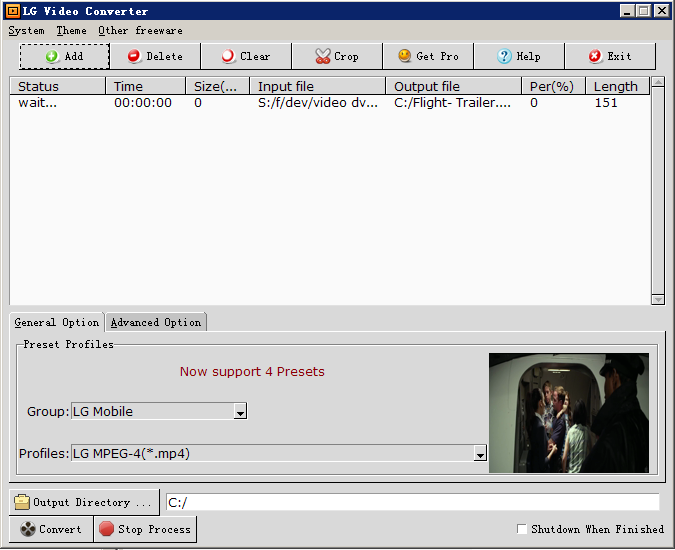 LG Video Converter News
04-17-2013 LG Video Converter Ver 2.0.1 released.
03-11-2013 LG Video Converter Ver 1.0.1 released.
Download LG Video Converter
Support about LG Video Converter
Should there be any queries, please don't hesitate to leave a reply.