Free MPG MP4 Converter Freeware is the best software for MP4 file conversion of MPG format, which designs for anyone who would like to enjoy movies on portable device. MP4 file format or MPEG-4 Part 14, formally ISO/IEC 14496-14:2003, is a multimedia container format standard specified as a part of MPEG-4. It is most commonly used to store digital video and digital audio streams. MPEG-2 is a standard for "the generic coding of moving pictures and associated audio information". It describes a combination of lossy video compression and lossy audio data compression methods which permit storage and transmission of movies using currently available storage media and transmission bandwidth. With Free MPG MP4 Converter Freeware, the outstanding professional MPG MP4 Converter software, you are able to convert all favorite MPEG-2 into MPEG-4 format and transfer them to wherever you want.
Free MPG MP4 Converter Freeware is very easy to use without any special setting, only a few clicks complete the task of video conversion! It can detect your hardware configuration and decide an optimized conversion scheme automatically as well as shut down your computer after the conversion had done automatically. With user-friendly interface, Free MPG MP4 Converter Freeware can be easily operated by anyone. It is easy to use for the beginner as well as having advanced functions for the professional user. You can start to use it now and receive unlimited enjoyment from your digital life.
With unmatchable compression ratio and speed while retaining high quality, Free MPG MP4 Converter Freeware can convert almost all kinds of video files, for instance, MPEG1 MPEG2 to MP4 files.
Free MPG MP4 Converter Freeware Key Features
Suit for both veterans and beginners:If you are a veteran, the MPG to MP4 converting software has so many options for you to set; if it's the first time you convert movie to MP4, just ignore these options, and use default settings customized for converting to MP4 directly in a few clicks.
Automatically check your CPU type:Free MPG MP4 Converter Freeware can check your CPU type automatically, fully use your CPU to convert movie in the best converting speed.
Support almost all popular MPEG video files (MPEG1, MPEG2, VOB etc.)
Convert MPG to Apple iPod iPad iPhone Video; Convert MPG to Sony PSP; Convert MPG to Microsoft Zune; Convert MPG to MP4 format that can be played on general portable video device, such as Archos, iRiver, or Creative Zen Vision, or other MP4 player.
Excellent image and sound quality:Using Free MPG MP4 Converter Freeware, you will get any movie format you want with excellent image and sound quality.
Provide >300% converting speed by multithreading, so fast beyond your imagination.
Support auto-shutdown:Automatically shutdown your computer when the conversion has been completed.
Free MPG MP4 Converter Freeware System Requirements
OS: Windows 98/Me/2000/2003/XP/Vista, Windows 7 or better.
CPU: >750MHz Intel or AMD CPU
Free MPG MP4 Converter Freeware Screenshot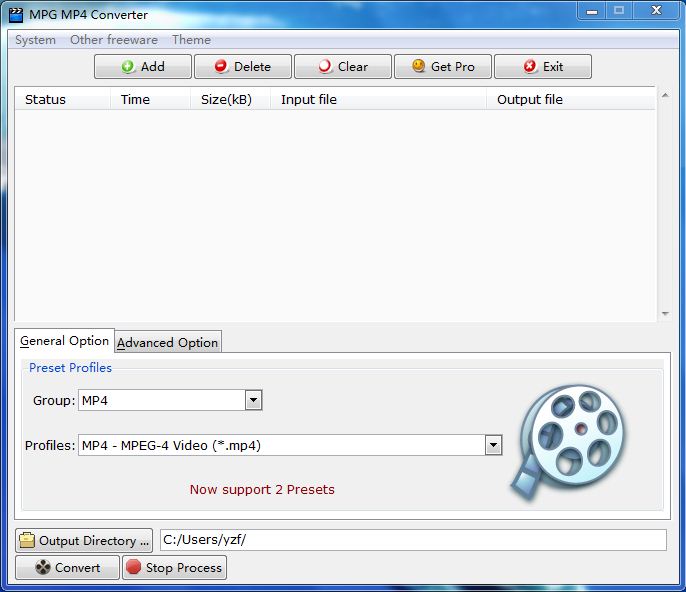 News about Free MPG MP4 Converter Freeware
03-23-2012:Release Free MPG MP4 Converter 1.0.1.
Download Free MPG MP4 Converter
Support about Free MPG MP4 Converter Freeware
Should there be any queries, please don't hesitate to leave a reply.