Free MPEG Joiner Freeware is the best software for join MPEG video file. MPEG-1 is a standard for lossy compression of video and audio. It is designed to compress VHS-quality raw digital video and CD audio. MPEG-2 is widely used as the format of digital television signals that are broadcast by terrestrial (over-the-air), cable, and direct broadcast satellite TV systems. It also specifies the format of movies and other programs that are distributed on DVD and similar discs. Add unlimited MPEG video files in the fast and easy setup interface; It is very easy to use without any special setting, only a few clicks complete the task of video file join; It can detect your hardware configuration and decide an optimized join scheme automatically; Join your MPEG video files and preserve video quality after adding more MPEG files by click mouse button; Provide >300% joining speed by multithreading, so fast beyond your imagination; Automatically shutdown the computer after join task.
Free MPEG Joiner Freeware System Requirements
OS: Windows 98/Me/2000/2003/XP/Vista, Windows 7, Windows 8 or Windows 8.1.
CPU: >750MHz Intel or AMD CPU
Free MPEG Joiner Freeware Screenshot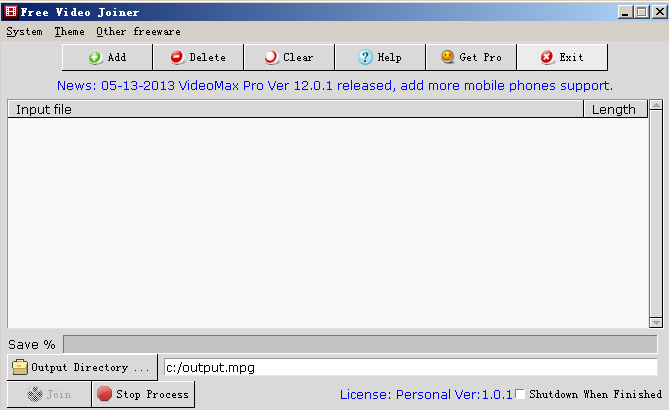 Free MPEG Joiner News
11-19-2013 Free MPEG Joiner Ver 1.0.1 released.
Download Free MPEG Joiner
Support about Free MPEG Joiner
Should there be any queries, please don't hesitate to leave a reply.